IchigoJam Board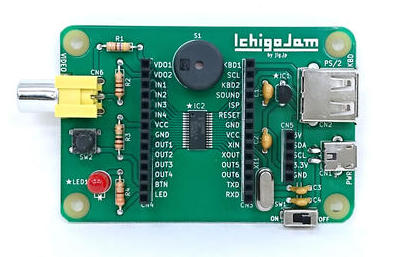 What is this?
This is a tiny PC to learn programming and to make TV games and IoT devices.
| | |
| --- | --- |
| MPU | NXP LPC1114 (arm Cortex-M0 48MHz, ROM:32kB, RAM:4kB) |
| GPIO | OUT x6, PWM x4, D-IN x4, A-IN x2 |
| Keyboard | PS/2 over USB-A (Interface is USB but signal is PS/2) |
| Video | RCA Composit (NTSC/PAL: OS depends) |
| Sound | Beep |
| Network | UART Serial |
| Power | microUSB (5v, 50mA) |
| Notes | LED x1, Button x1 on board |
To educators

We are looking for educational users of this board. We can support your organization, please contact us.

To makers

We are collecting works made by this board. Please tell us your works.
Board styles
There are 2 styles of IchigoJam board.
Original style


It is called "IchigoJam". There are several types, such as color differences.

Separate style


It is called "IchigoDake" and "IchigoIgai". "Dake" means Only. "Igai" means Others.
Both styles are the same IchigoJam board.
Available OSs
There are some OSs for your choice.
A classical BASIC style OS like AppleII, Commodore and MSX.
A command shell style OS like Unix. There are some version for about programming language.
A warrior style OS like RPG warrior. You can make program by cross key of game pad.
A GUI style OS. You can use the mouse instead of the keyboard. (Under Developing)
How to install?
One OS of them is pre-installed on the board. But you can re-flash it for your choice. Please refer this blog article.
Where to get?
You can get IchigoJam board from;

We are looking for distributors in your country, please contact us.